Drawing upon a tragic play by Robert Walser on total filial love, Gisèle Vienne (associate artist) brings together actress Adèle Haenel and dancer Julie Shanahan (performer with Pina Bausch). Palpable tension permeates this show, which twists the conventions of dialogue and inter-character relationships to question family and social values.
Voir le programme
catégorie
Associate Artist
|
Dance-Theatre
Séance traduite en langue des signes française
Séance avec audiodescription
Rencontrez les artistes à l'issue de la représentation
Séance scolaire
Séance sous-titre adapté
L'Étang is a family tragedy, a private text written by the young Robert Walser (1876-1956) to his sister, the only text he ever wrote in Swiss German. It's the story of a child who feels rejected by his mother and out of desperation pretends to commit suicide to verify if she actually loves him. What is at stake here between the lines and onstage? What are the various layers that make up our perception, understanding and interactions? These questions – which have long been central to the work of Gisèle Vienne – contribute to a stage setup where Adèle Haenel and Julie Shanahan embody one and two characters respectively while performing the voices of others, incarnated by 15 dolls. Onstage, reality and time are perceived at various levels. Violent slowness, color saturation, musical and sonic blasts make L'Étang a sensory experience where voices, words, thoughts, intentions, characters and actors seem to struggle and each play by their own rules. In the process, they question the conventions of theater and family.  
Vincent Théval 
Une œuvre parmi les plus intenses et parfaitement sophistiquées de sa créatrice. 
Ève Beauvallet, Libération
Un spectacle fulgurant, d'une densité folle. Fabienne Arvers, les Inrockuptibles
Un théâtre visuel étrange et déroutant où les deux comédiennes livrent une performance subtile et saisissante. Bélinda Mathieu, La Terrasse
Dans une dernière danse, comme au ralenti, Adèle Haenel semble incarner la perte de l'innoncence. Du grand art. Philippe Noisette, Les Échos
Adèle Haenel est tout simplement stupéfiante, dans un registre à mille lieux du réalisme cinématographique, montrant toute l'étendue de son talent. Fabienne Darge, Le Monde
Un spectacle fascinant. Laura Cappelle, New York Times
Expérience théâtrale réussie. Stefan Grund, Die Welt
Une production sans compromis, unique, portée par une vraie liberté créatrice. 
Luc Boulanger, La Presse (Québec)
L'intensité de la proposition et la qualité des interprétations sont telles qu'on demeure conquis. Marie-Pierre Genecand, Le Temps (Suisse)
La rencontre à l'issue de la représentation du jeudi 28 septembre sera modérée par Laura Cappelle.
Aller plus loin
Podcast Émission "Par les temps qui courent" de Marie Richeux / France Culture
"Je cherche à montrer, comment développer la conscience de ce qui constitue notre perception, et comment inventer un langage qui va déplier, et rendre visible et sensible, ce qui forme toutes les strates perceptives qui constituent l'expérience du présent. " Gisèle Vienne

Découvrir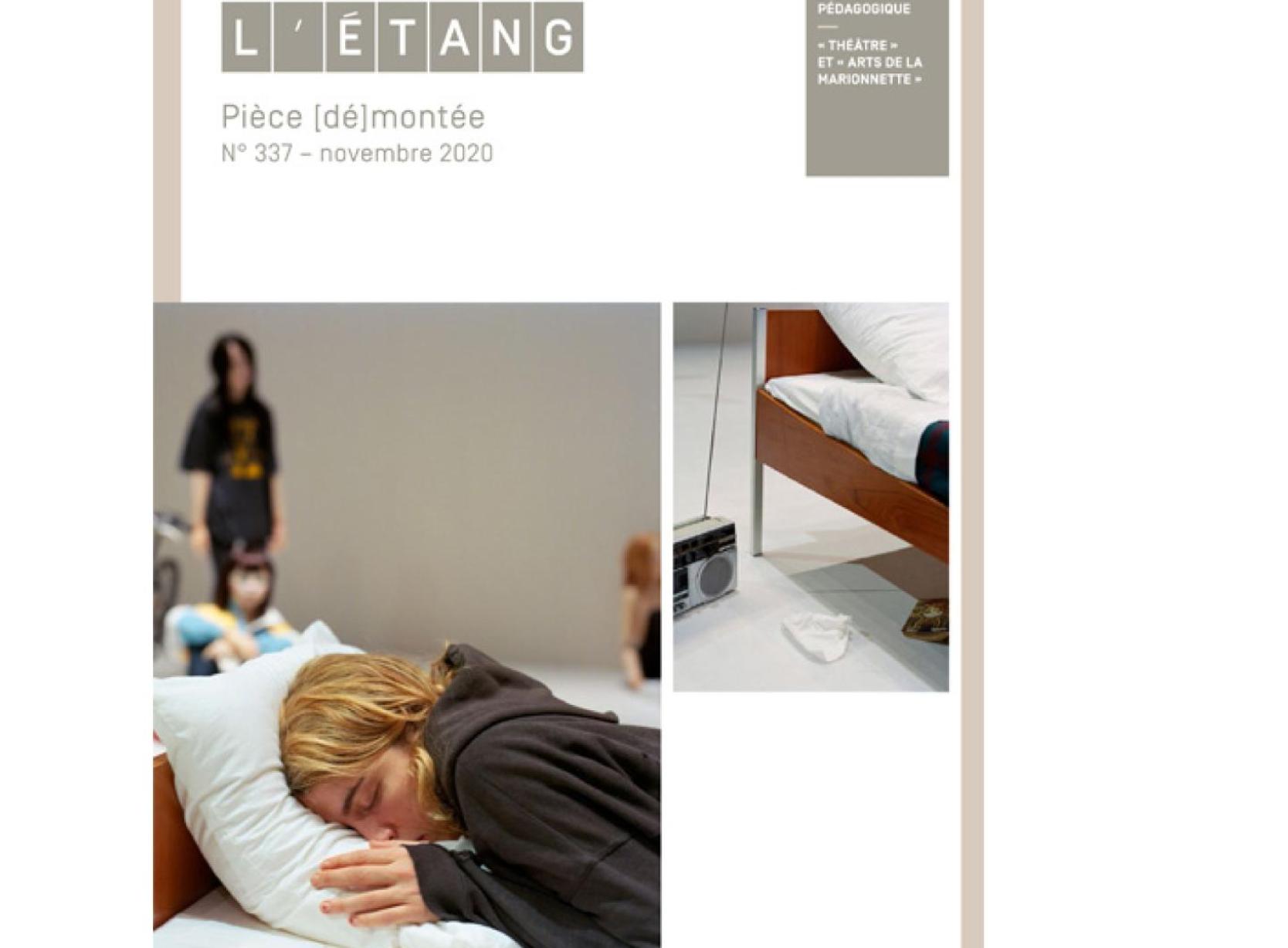 Pièce (dé)montée
Dossier pédagogique n° 337 de la collection Pièce (dé)montée sur la pièce "L'Étang" d'après l'œuvre originale "Der Teich" de Robert Walser et mise en scène par Gisèle Vienne.
Découvrir
À découvrir
À découvrir
À découvrir
À découvrir
À découvrir
À découvrir
À découvrir
À découvrir
À découvrir
À découvrir